The PTAB search provides a variety of filters to focus your search in the Portal. To use the PTAB filter search, simply click "Case List" directly below "PTAB" on the left-hand sidebar menu. To view all of the available filters, select "More Filters" near the bottom of the search bar. Once you have entered your desired search parameters, select "Apply" to apply the filters. 
Figure 1: PTAB Search using Filters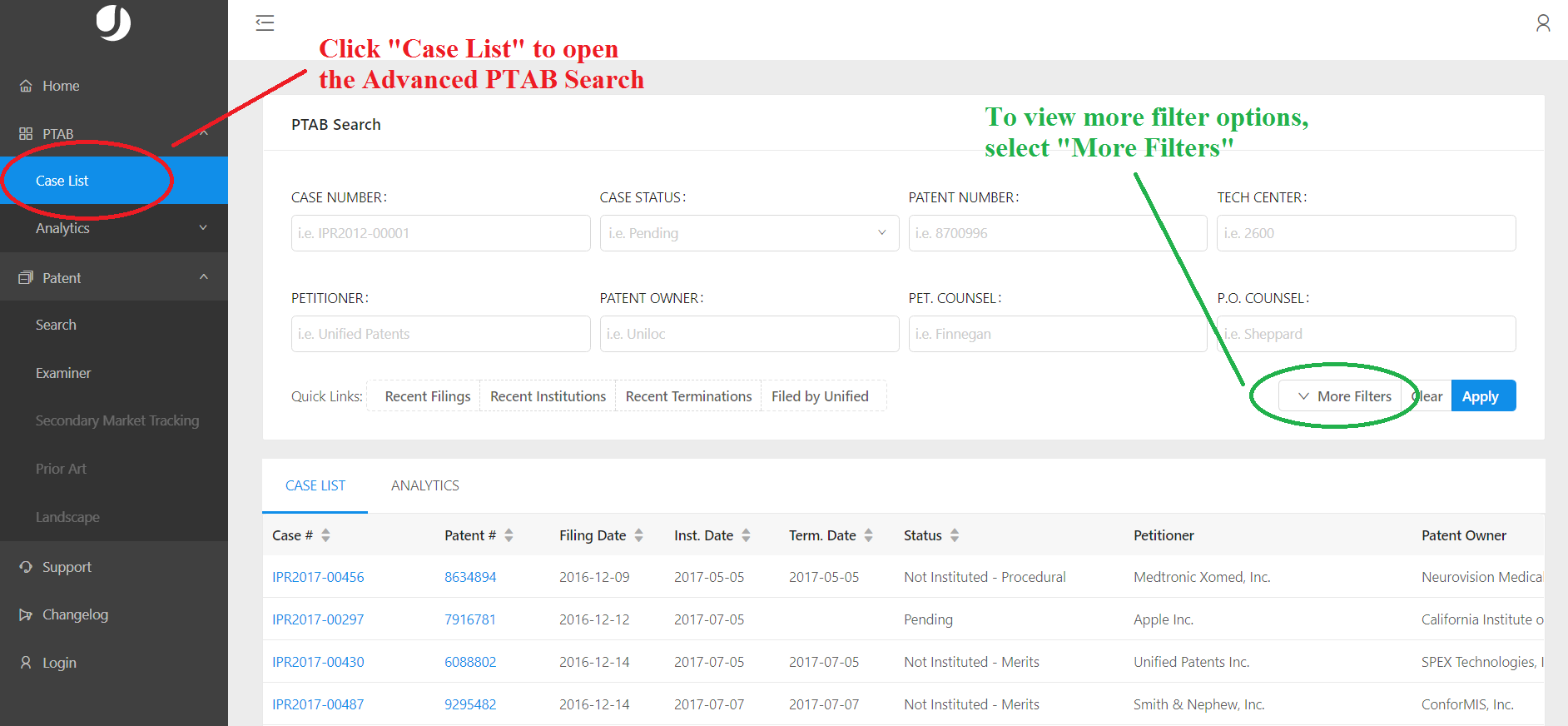 Various filters can be used to improve the quality of your search and help you to find a particular group or subset of cases with ease. Available options include:
Case Number

: Search for an individual case using the case number (e.g. IPR2017-01934)

Case Status

: Search for a group of cases based on the current status of the case (e.g. "Pending", "Not Instituted", "Terminated").

Patent Number

: Search for cases by patent number.

Tech Center

: Search for cases by designated CPC codes.

Petitioner/Patent Owner

: Search cases involved with a particular party (petitioner/patent owner).

Pet. Counsel/P.O. Counsel

: Search cases involved with a party's counsel.

Author Judge/Panel Judge

: Search cases where a particular judge wrote the decision or was one of the judges on the PTAB panel.

Industry:

Search for cases by the type of technology involved. Unified separates cases into 3 broad categories: High-tech (~69% of cases), Medical (~17% of cases), and Other (~14% of cases).

Entity Type:

Search for cases based on the entity status of the Patent Owner. Unified categorizes each patent owner as either NPE (Patent Assertion Entity), NPE (Small Company), NPE (Individual), Operating Company, University, or Goverment/NGO/Non-Profit. For more information about these entity types, visit

Unified's website

.

Filing Date/Institution Date/Termination Date

: Search for cases by date of filing, institution decision, or final written decision.
Example 1:
For example, suppose Company A is interested in challenging a particular software patent. Using the "Patent Number" filter, Company A may see whether the patent is the subject of any pending cases.
Additionally, if Company A wants to gather more information about how software-related patents have fared at PTAB in 2016, they can conduct a broader search using the following parameters:
Case Status:

"Terminated - All"

Tech Center:

 "2100: Computer Architecture, Software, and Information Security" (or other related CPC fields)

Termination Date:

01/01/2016 to 12/31/2016
Figure 2: Advanced PTAB search with filters